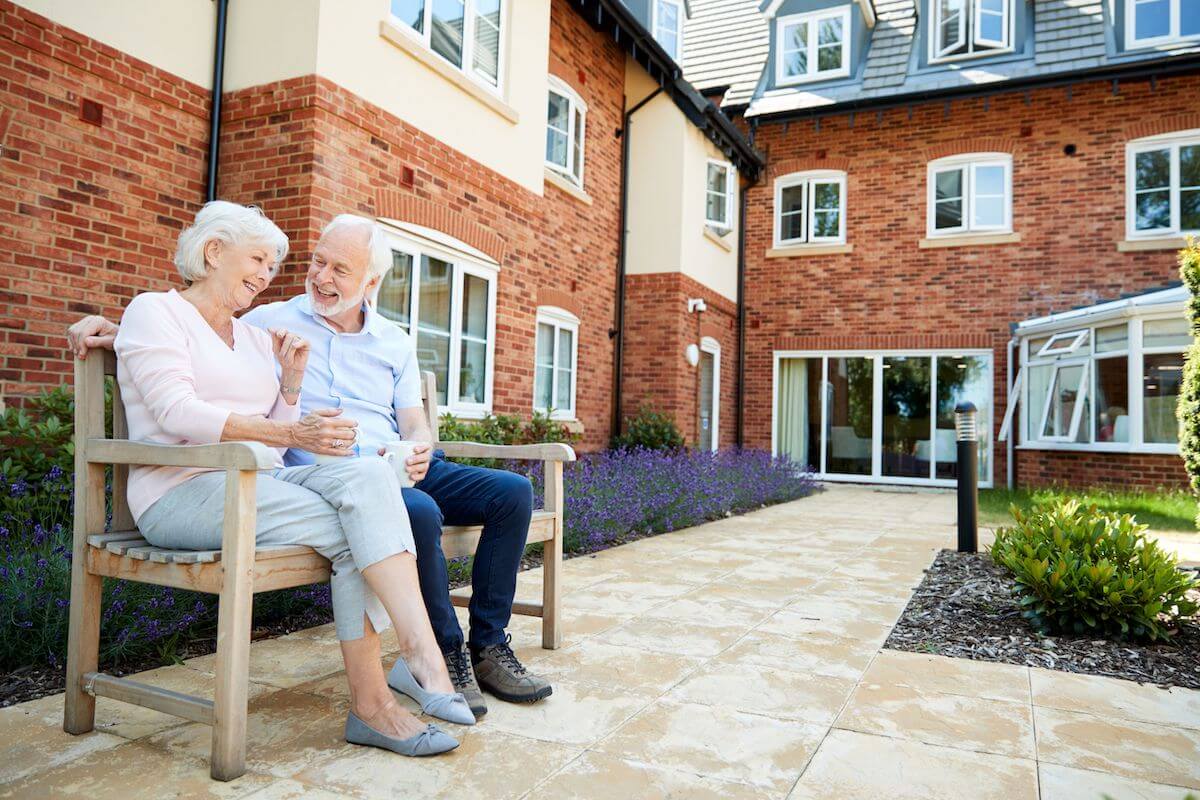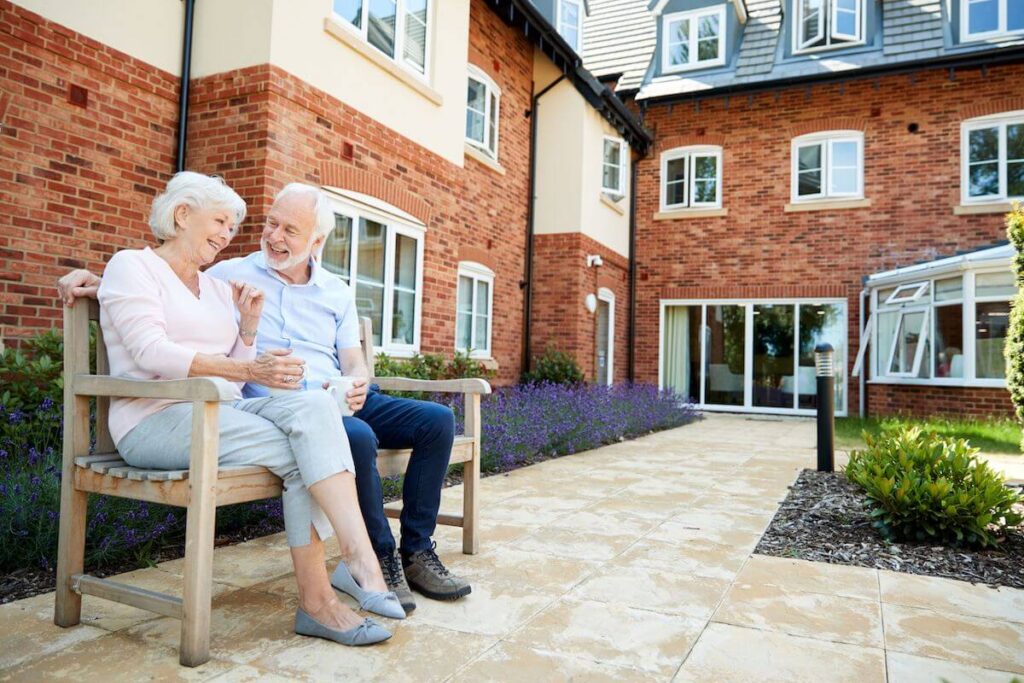 COVID-19 is currently weighing on senior housing demand and profitability, but anticipated growth of the over-75 population points to rising demand — and significant new supply requirements — in the next decade.
The nature of the COVID-19 pandemic presents particularly acute challenges for the senior housing sector. Senior housing communities and operators face considerable stress in keeping both staff and residents protected, with pressures on both the expense side, as costs of mitigation and staffing increase, and the revenue side, as move-in rates slow markedly. Operators and owners face squeezed revenues that may be compounded by reputational
risks — particularly as less care-intensive sectors including assisted and independent living are conflated in media reports with nursing homes.
Nevertheless, looking beyond the immediate crisis, our long-term view of senior housing remains positive. Given the strength of the underlying demographic demand drivers long in place, the sector remains well-positioned for long-term growth and the coming few years could prove an attractive entry point for senior housing investors.
The sector has experienced somewhat softer fundamentals in recent years, as its compelling long-term demand growth profile — and the influx of capital to real estate more generally — attracted investment, thereby fueling new supply and leading occupancies and incomes to ebb. In response to this modest softness, the supply wave had already begun to abate, with starts slowing since the end of 2017 (exhibit AM6). Given the present market conditions, both supply and demand are likely to recede in the near term. However, we expect demand to rebound rapidly once restrictions are lifted, as pent-up demand provides a near-term boost and thereafter as demographic tailwinds gain momentum.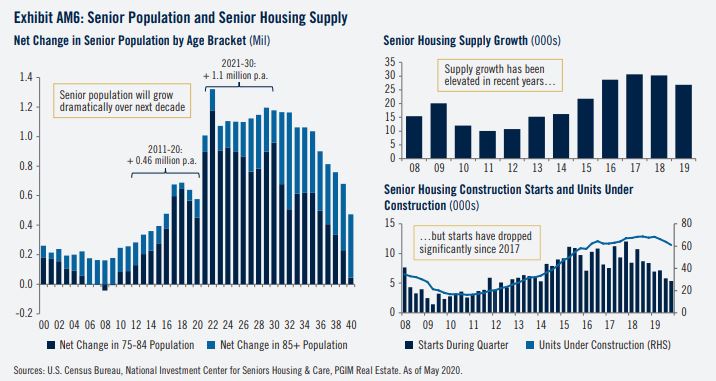 There is a strong correlation between the size of the senior population (those aged 75 years or more) and demand for senior housing units, with adoption rates consistently in the range of 6.50–6.75% over the past decade. In other words, for every additional 1,000 seniors in the population, an average of 66 additional senior housing units are occupied.
In the next 10 years, the senior population cohort will grow at more than twice the pace of the past decade — from 23 million to 34 million, an increase of nearly 50%. Assuming the rate at which seniors adopt senior housing remains constant at 6.6%, new demand will average 41,000 units per year in the next 10 years — about twice the recent five-year average of just over 20,000 units (exhibit AM7). Even if adoption rates were to fall significantly, by, say, a full percentage point to 5.6%, net new demand would still average more than 23,000 units per year.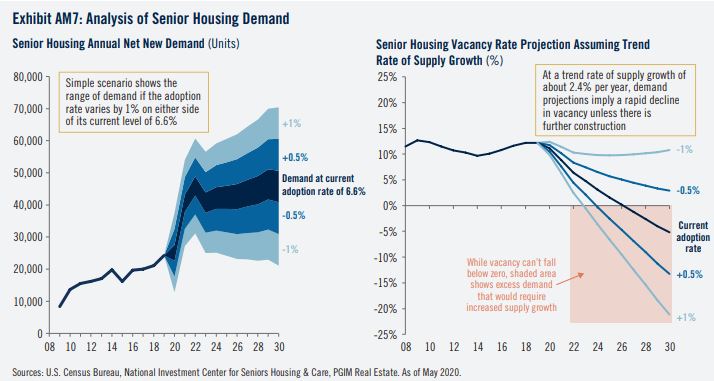 Given these projections, and despite the near-term softness that has led developers to pull back, substantial new construction will be required in the sector within the next few years. Assuming baseline adoption rates, new supply at the historical average pace of 2.4% would fall short of projected demand by 2025. Even in a scenario in which supply grew by 3.1% per year — as recorded during the past five years — vacancies in the sector fall below their prior cycle low by 2024.
In all but the most pessimistic of scenarios — in which demand decreases and supply continues at elevated rates for a prolonged period — vacancies are still lower than current levels. Even if this growth in the population falls short of projections or if adoption rates for senior housing ebb as seniors decide to forgo or delay moving into senior housing for financial, technological or societal reasons, the sheer magnitude of the demographic shift portends significantly higher demand for senior housing units.
Senior housing historically has been among the more-resilient sectors in downturns, as it is much more needs-based than the major property sectors. Given the health emergency nature of this downturn, performance in the near term will be poor, pressured at least as much by rising expenses as any drop-off in demand, yet given demographic tailwinds, it remains a compelling long-term investment opportunity.