Occupancy in independent and assisted living continued declining in May but could be stabilizing, the National Investment Center for Seniors Housing & Care said Tuesday as the organization released new data.
The decrease in occupancy in May was less than it was for the previous month for both sectors of senior living, NIC said.
"It's too soon to predict whether senior housing occupancy will steady in the months ahead, but it's a critical piece of information to monitor closely," NIC President and CEO Brian Jurutka said in a statement. "Occupancy shifts are key indicators for property operators to guide informed decisions about residency and current and future staffing needs."
NIC defines senior housing as independent living and assisted living (and the assisted living subsector of memory care) combined. Assisted living is feeling the negative effects of COVID-19 more so than independent living, according to May figures from the NIC MAP Data Service.
"The data showing declines in occupancy at assisted living properties validate what property operators have said about the impact of COVID-19 on the senior housing sector," NIC Chief Economist Beth Burnham Mace said in a statement. "Assisted living residents tend to be frailer than independent living residents and often have multiple chronic diseases. Their need for more care means a greater risk of complications from COVID-19."
Last month, Mace predicted to McKnight's Senior Living that senior housing could see "a pretty significant impact" from the virus in May because many operators had stopped accepting new residents. "That's going to affect occupancy rates," the chief economist said at the time.
Numbers released Tuesday for assisted living showed that stabilized occupancy dropped 0.9 percentage points to 85.2% in May in the nation's largest 31 metropolitan areas. By comparison, occupancy was 86.1% in April and 87.8% in March, the first full month of the COVID-19 pandemic.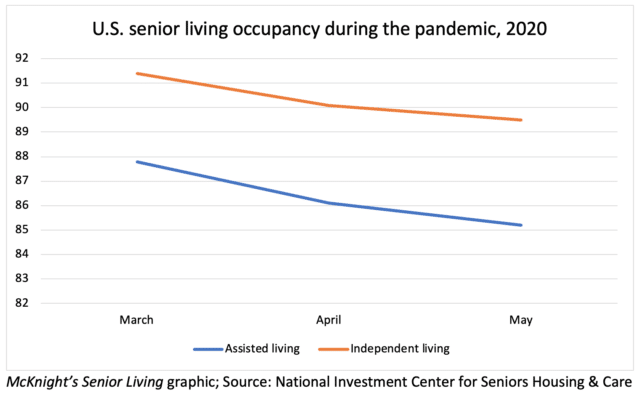 In independent living, occupancy decreased by a 0.6 percentage point to 89.5% in May, down from 90.1% in April and 91.4% in March.
Long-term trends will be revealed as more data are collected. Last month, Mace said that anecdotal evidence suggested that COVID-19 may be hit independent living harder than assisted living because assisted living is more need-based than independent living, which is more of a lifestyle choice for which prospective residents could put off move-ins.
NIC has increased the frequency of NIC MAP data reporting, conveying the data in an Intra-Quarterly Snapshot in an effort to help operators and government entities analyze the effects of COVID-19 and steer resources to those most in need so that residents and staff members are protected.
Monday, Jurutka told McKnight's that NIC was pushing for more senior living operators to submit data to NIC to increase transparency about coronavirus infections and their effects so the long-term care industry can devise coping strategies. Currently, only nursing homes are required to submit their pandemic-related data to the federal government.
Written by: Lois A. Bowers