Senior living is currently grappling with the effects of oversupply in some markets. Even more new supply will be needed to meet the demand for senior housing from baby boomers, though, suggests new analysis from the National Investment Center for Seniors Housing & Care (NIC).
Using the 80-plus household cohort as a baseline, NIC used its estimates of existing inventory — 1.592 million units — to determine that senior living will need nearly 986,000 new units between now and 2040, based on an 18% penetration rate. Nearly 881,000 new units will be needed between now and 2030.
The previous analysis used the 75-plus household demographics as the baseline, but NIC and other industry experts believe the average age of residents in senior housing has increased in the past decade, and many observers place the typical age of move-ins at 80 years.
"In the immediate term, however, 31,000 units are needed in 2019; 36,000 in 2020; and 41,000 in 2021–fewer units than were added to inventory in 2018," the analysis reads. To date, the industry has added an estimated 48,000 new units of inventory in 2019.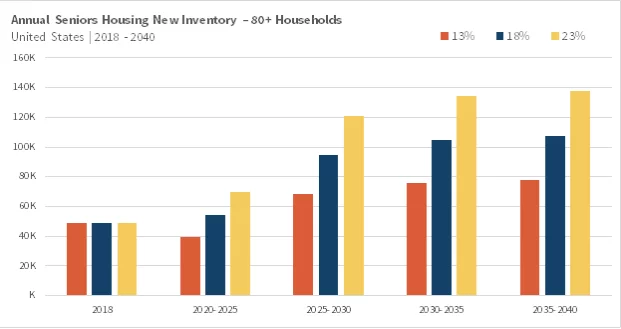 An 18% penetration rate is an assumption that may not come to pass. If the rate increased to 23%, an additional 247,000 units would be needed through 2030 to meet demand. It is worth noting, NIC adds, that these estimates are based on demographic demand and do not take boomers' consumer preferences into consideration.
"This is particularly important because the emerging cohort for seniors housing is the baby boomers and they are known as a generation that does not do things the same way as prior generations," the report read.
Those consumer preferences almost certainly include the growing interest in active adult and age-restricted senior housing. Senior-only apartments have emerged as their own standalone product type, according to JLL's 2019 Seniors Housing Survey of over 1,000 lenders, operators and industry consultants.
JLL's survey estimates between 5% and 8% of baby boomers — as many as 6 million — are expected to transition to senior apartments over the next decade. More importantly, the 10-year differential in the average age of entry suggests senior apartments can be considered their own product type, able to exist alongside independent living without causing a significant impact on the latter's performance.
By Chuck Sudo