Thirty percent of JLL's survey respondents ranked those property sub-types as "extremely desirable," and another 56 percent ranked them as "very desirable."
A recent survey on seniors housing conducted by real estate services firm JLL found that independent and assisted living facilities are currently considered the most promising property sub-types in the sector. Thirty percent of JLL's survey respondents ranked those property sub-types as "extremely desirable," and another 56 percent ranked them as "very desirable." No one ranked these sub-sectors as "not at all desirable."
Next on respondents' preference list were freestanding assisted living facilities, with 19 percent ranking the sub-type as "extremely desirable" and 30 percent ranking it as "very desirable." There was a small group of respondents—comprising 4 percent—that ranked freestanding assisted living facilities as "not at all desirable."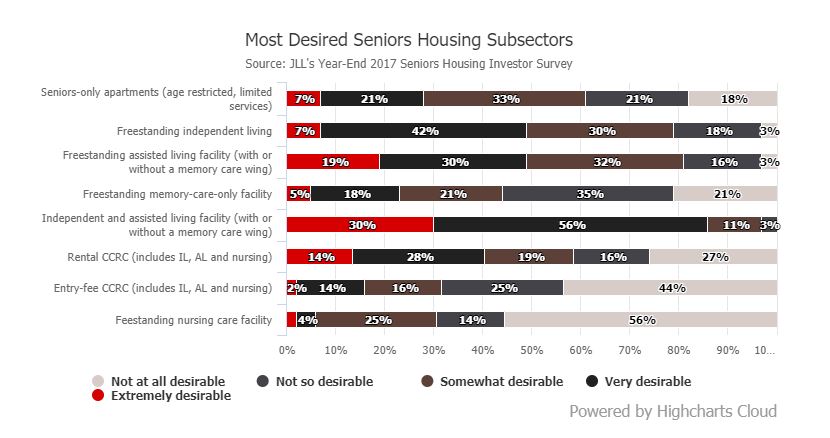 On the other side of the spectrum, freestanding nursing care facilities were ranked as the least attractive of all seniors housing sub-types, with 56 percent of survey respondents saying they were "not at all desirable." Only 2 percent ranked this property sub-type as "extremely desirable" and 14 percent said it was "very desirable."
According to the survey respondents, the appropriate average cap rate on class-A independent and assisted living facilities should be at 6.5 percent, rising to 8.1 percent on class-C properties. Cap rates on class-A plus seniors-only apartment properties should average approximately 5.5 percent, survey respondents said.
The appropriate average cap rate on nursing facilities ranged from 11.1 percent on class-A plus properties to 13.5 percent on class-C assets, in respondents' views.
The survey included responses from more than 250 seniors housing insiders, with a focus on transaction professionals.