Although senior housing occupancy rates nationwide remained near historic lows in Q4 2018, the increase in occupied units hit a new high, according to the National Investment Center for Senior Housing & Care (NIC) Q4 market fundamentals report.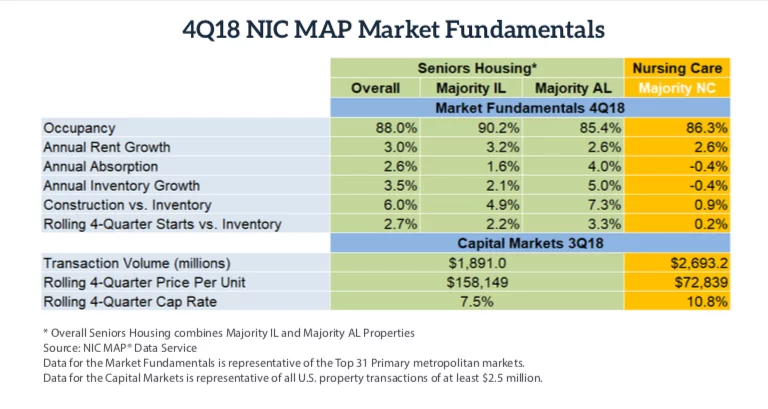 A snapshot of Q4 2018 senior housing occupancy rates, as recorded by NIC.
Overall senior housing occupancy inched upward by 0.1% in Q4, to 88%, although this number is 0.7% lower than Q4 2017. Occupancy rates for independent living held steady at 90.2%, while assisted living occupancy continued an upward trend, rising 0.1% to 85.4%, NIC Chief of Research and Analytics Chuck Harry told Senior Housing News. The current occupancy is 2.2% lower than the most recent high of 90.2%, set in Q4 2014.
The report does contain reasons for optimism. The number of occupied senior housing units increased 1% (5,149 units) last quarter, which is the highest recorded since NIC started tracking data in 2006, Harry said. In previous reports, NIC cited the rate of inventory growth exceeding the absorption of units as the main driver in the downward trend in the occupancy rate.
Even though demand kept up with new supply last quarter, Harry indicated it is too soon to foretell what might happen this early in the new year.
"We're taking a wait-and-see approach on the occupancy and absorption, moving forward," Harry said. "Keep in mind that Q1's numbers will be reflective of the winter months, which can create downward pressure on occupancies."
Construction as a share of existing inventory remained unchanged, at 6% overall, and 1.3% lower than the same time frame in 2017. In independent living, construction as a share of inventory rose 0.3% to 4.9%, while assisted living fell 0.4% to 7.3%.
By Chuck Sudo | January 13, 2019