HUD 232 Loan Program for Seniors Housing and Assisted Living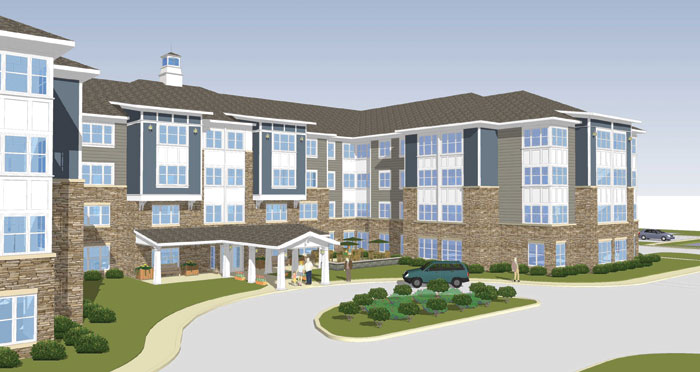 HUD 232 Loan Program for Seniors Housing and Assisted Living Properties
Property Types: Skilled Nursing (Skilled and Intermediate Care), Assisted Living, and Board & Care Facilities
Eligible Borrowers: For-profit and non-profit entities
Loan Amount: No Minimum/No Maximum
Term & Amortization: Up to 35 years and fully amortizing
Interest Rate: Fixed Rate, subject to market conditions at the time of rate lock
Recourse: None, except standard carve-outs
Assumable: Yes, subject to HUD approval
Prepayment: Typically loans are prohibited from prepayment for the 1st year, then have a 9% penalty declining 1% each year thereafter until 0%. Alternative lockout and prepayment structures are available.
Mortgage Insurance Premium: 1% at closing 0.65% annually
Time Frame for Funding: Minimum 6 months.
Other: Cash-out refinancing not permitted. Escrows required for repairs, mortgage insurance premium, taxes, insurance, and replacement reserves Third-party reports include an appraisal, PCNA, and Phase I Secondary financing is allowed, subject to HUD approval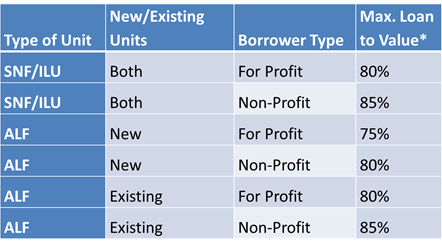 In addition to strong personal credit, the lender will be interested in the following elements when examining a loan request for seniors housing.
Positive Trend. Nothing scares lenders more than negative sales and earnings trends in a business or its industry. Conversely, a pronounced positive trend is a thing of beauty to a lender. They may look back several years to see how the business performed through past economic cycles.
Business Plan. Buyers are required to submit a basic business plan for the senior care business they are acquiring. Lenders want to see an intimate understanding of the business and industry. In most cases, a plan calling for modest growth and incremental change is the safest bet.
Continuity. Commitments by existing managers, key personnel, suppliers and customers to continue with the new owner represent a reduced risk to a lender.
Seller Training. Lenders want to see a well-thought-out management transition plan. A training/transition period to the new owner could be anywhere from 1 to 12 months. Be sure to negotiate this point upfront and clearly spell it out in the purchase agreement.
Seller Financing. When a seller agrees to finance even 10-15% of the deal, (subordinated to the banknote) it shows the lender that the seller is confident in the business under the new buyer's leadership and it shows commitment from the seller to make the transition work. This condition is commonly imposed by lenders.
Whether you are looking to purchase or refinance an independent or assisted living facility or business, develop a new senior housing facility, or expand your current senior housing business, loans are readily available. Let us guide you through the process and help position you for a successful loan approval.