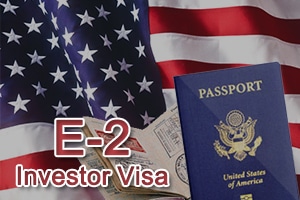 Who typically uses the E2 Investor Visa?
– People who want to purchase a franchise or small business in the USA
– People who want to retire in America.
– Real estate investors
The E2 is the primary investor visa and there is currently no quota or annual cap, so E2 visas are unlimited in the number available.
An E2 visa basically allows you to buy entry into the USA without actually "immigrating."
The E2 visa is typically issued for two or five year periods.
The E2 can be renewed indefinitely as long as the investor is running the business and it generates "more than enough revenue" to support the investor's family.
The E2 visa also covers the investor's spouse and children under age 21.
Are you looking to buy a US based assisted living business to get an E2 visa ?
Haven Senior Investments can connect you with established revenue generating assisted living businesses that are for sale. Typically businesses for sale range between minimum $750k up to $2 million.
E2 Visa – Treaty Investors
Owner or Developer of the new enterprise from a treaty country that has 50% or more ownership in a substantial US ?employment creating? investment.
The Treaty Investor Visa permits citizens of certain Countries (see list below) to reside in the United States through an investment in the U.S.A. The investor must come to manage or oversee the investment.
You can invest in virtually anything or trade in virtually anything. While some investments of less than $100,000 are approved, its safe to say that the investment capital and reserves should total at least $100,000 – $200,000 and the applicant must be prepared to demonstrate/project that the business will employ at least 3 – 4 persons.
The E2 visa lasts as long as the holder maintains the investment.
Investors must place their funds in the hands of a bank or closing agent who is instructed to release the funds to the seller of the property or business upon visa approval.
Investors developing their own business must come to the US as business visitors to get the business started before applying for the Treaty Investor visa.
E2 visas are considered non immigrant visas. However, once an investor is able to qualify and enter into the U.S. in this category, they are able to look for other opportunities and to apply for green cards and eventually citizenship.
Countries that maintain Treaties of Navigation and Commerce with the United States for E2 Visa purposes:
Argentina, Armenia, Australia, Austria, Bangladesh, Belgium, Bulgaria, Cameroon, Canada, Colombia, Costa Rica, Czech Republic, Democratic Republic of the Congo, Ecuador, Egypt, Ethiopia, Finland, France, Georgia, Germany, Grenada, Honduras, Ireland, Italy, Jamaica, Japan, Kazakhstan, Korea, Kyrgyzstan, Liberia, Luxembourg, Mexico, Moldova, Mongolia, Morocco, Netherlands, Norway, Oman, Pakistan, Panama, Paraguay, Philippines, Poland, Republic of Congo, Romania, Senegal, Slovak Republic, Spain, Sri Lanka, Suriname, Sweden, Switzerland, Thailand, Togo, Trinidad & Tobago, Tunisia, Turkey, Ukraine, United Kingdom, and Yugoslavia.
Other Requirements:
E2 visa holders may only work for themselves or the E visa enterprise.
E2 visas may be extended as long as the E visa enterprise is operating.
E2 visas are generally issued in five year increments.
E2 visa dependent children loose their E visa status when they turn 21 years of age. At that time they need to find another status.
E2 visa holders and dependents may study in the US.
E2 visa holders do not have to live in the US any particular amount of time and may arrange their affairs so they are not subject to world wide taxation.
When you need assistance, please fill in this form and within 24 hours a representative will be in touch with you. Your information is held in strict confidence and is never sold to a third party. We look forward to serving you.