Investing in Senior Housing and Assisted Living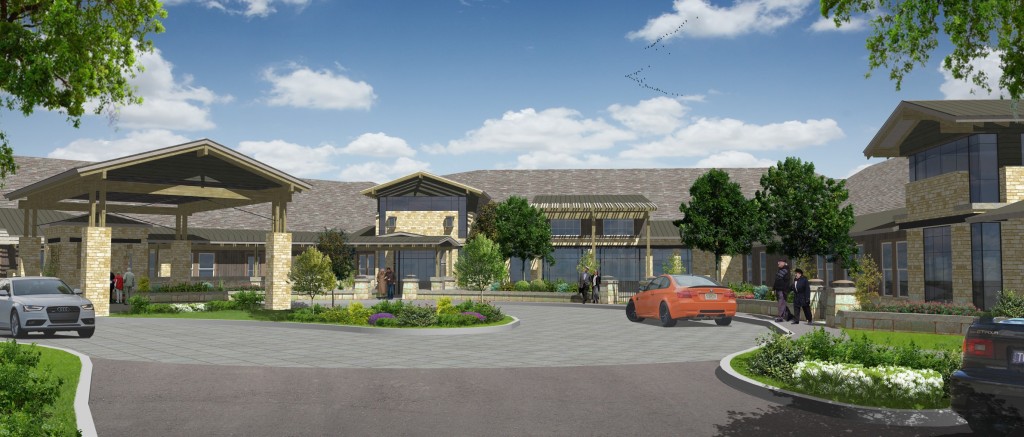 Are senior housing and assisted living properties and businesses a good investment?
Senior housing is a niche property type that has moved into the mainstream of commercial real estate investing in recent years. Both institutional and private investors have been expanding into senior housing looking for higher yields and better investment returns.
Leading the way is the powerful demographic trend of an aging baby boomer population combined with economic resiliency.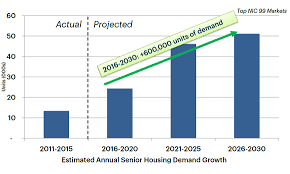 The trend line in the graphic above is compelling. Additionally, by 2030, 21% of the US population (74 million people) will be over the age of 65 as the tail end of the Baby Boomers reach senior-hood. The tremendous growth in this demographic is additionally fueled by an increasingly longer expected life span across the globe. The need for appropriate and scaled housing for this sector of the population is huge and investors have recognized it.
The economic recession of 2008 also provided the market with evidence that senior housing was more resilient to occupancy swings than other real estate sectors, as senior housing consistently outperformed all other real estate sectors for the past 5 years, 10 years and 15 years (The Property Index Performance Data provided by the National Council of Real Estate Investment Fiduciaries NCREIF).
These factors and more have been fueling investor demand and spurring new development across the sector. The total size of the senior hosing market is estimated to be over $420 billion with approximately 24,000 senior housing communities with over 25 beds (National Investment Center for Seniors Housing and Care Industry, NIC) and many, many thousands more smaller facilities.
Senior Housing Asset Classes
Senior housing properties usually provide both housing and services. The three main asset class categories of senior housing include independent living, assisted living and skilled nursing. Memory care is another specialized type of care that may be included as its own separate category or as a subset within assisted living. NIC provides a detailed description of the different property types, as well as a variety of research and resources for investors, owners and operators of senior housing.
Independent Living: Designed for seniors who require little or no assistance. These properties often cater to residents who are 55+ with a variety of on-site amenities and social programming. Fine dining services may be offered with custom-designed meal packages. These properties generally cater to healthy, active senior with an emphasis on hospitality-style services and features. A variety of apartment sizes are available from studios to large two bedrooms.
Assisted Living: These state-licensed facilities combine housing with a variety of personal support services and health-care assistance. Residents are not fully independent, and either want or need extra services related to medical care or help with everyday needs such as transportation, meals and laundry.
Memory care: These long-term care properties serve residents with memory impairment, primarily dementia and Alzheimer's, which make it unsafe for them to continue to live at home or even with family. Also called special care units (SCUs), memory care properties provide 24-hour supervised care sometimes within a separate wing or floor of an assisted living facility.
Skilled Nursing: Properties are generally licensed and provide 24-hour skilled care for chronic and short-term conditions that require more intensive or specialized medical and nursing care. Memory Care Rehab centers are another subset within this category that provides healthcare services to both senior and non-senior who are in need of a high level of care on a short-term basis, such as during recovery from major surgery or injury.
Campuses: Senior properties can be configured as stand-alone or adjoining facilities, as well as campus-style continuing care retirement communities (CCRCs). CCRCs offer a tiered approach to the aging process as they allow residents to move from one type of facility to another in the same location as their level of care needs change. These campuses also are ideal for spouses or siblings who want to live close together but have different care needs.
Demographics: As stated above, one of the major factors that have attracted capital to the senior housing sector is its favorable demographics, particularly the aging Baby Boomer population. Those boomers are having both a direct and indirect impact on senior housing properties. Baby boomers are actively moving into 55+ independent living properties. However, the typical age for seniors entering assisted living facilities these days is 80, and the first baby boomers do not turn 80 until 2026. Therefore, boomers won't have a direct need for assisted living and skilled nursing facilities for themselves for another few years, however, investors are developing, building and buying now in preparation for the influx. Boomers are a direct influencer of demand for assisted living and skilled nursing facilities today in their capacity as decision-makers, as they are the adult children of today's residents.
Memory care: Baby boomers will also drive demand for more specialized memory care facilities, which can affect seniors at earlier ages than other aging needs. Of the 5.4 million Americans with Alzheimer's, an estimated 5.2 million people are age 65 and older, and approximately 200,000 individuals are under age 65 with younger-onset Alzheimer's, according to the Alzheimer's Association. Unless there is a medical breakthrough, the number of people age 65 and older with Alzheimer's disease could nearly triple to a projected 13.8 million by 2050.
Geographic concentration: The demand for senior housing properties is widespread across the country from major metros to small tertiary markets as the need for senior housing does not discriminate by population size. The need is everywhere. However, a large population base – and especially a concentration of aging seniors – will drive more demand for senior housing properties. Notably, there is a greater concentration of senior housing in the states where the adult children are living, as families want their aging parents to live nearby.
Across all types of senior housing, one of the most notable changes over the past two decades has been a continual shift away from institutional style facilities. Residents, and their adult children who are making the housing decisions, have higher expectations for care, which has influenced the level of services delivered by senior housing operators as well as the quality of the physical environment. As such, all types of senior housing properties have stepped up their game in order to compete for residents.
Upgrading image: Developers are thinking strategically about their customer base, as well as the decision-makers for those customers. For example, what locations are most convenient for family members to stop and visit mom or dad, and what types of facilities do they want to choose for their parents? What was acceptable in the 1980s and 90s is not acceptable today. Facilities are aimed at keeping seniors happy and engaged, giving them a better quality of life and a longer life. Today's properties offer a variety of on-site amenities, such as nail salons, nature trails and chef-run dining experiences.
Thoughtful design: Facility designs are being re-engineered with more inviting atmospheres that are both appealing and therapeutic to residents. For example, select memory care facilities are incorporating retro environments, such as a 1950's soda fountain. Studies have shown that seniors who suffer from dementia respond to these simulated environments and begin to behave more like the youthful version of themselves that coincide with the period of the environment. Operators are also infusing biophilic designs and introducing natural elements, such as living plant walls and raw-edged wooden tables to add warmth to a space by bringing nature indoors. Incorporating nature in this way has shown to positively affect those in the space by reducing stress and improving cognitive performance, emotions and mood.
Emphasis on Wellness: The concept of preventative care has finally made its way into the operation of modern senior housing facilities. Many communities are choosing to add resort-caliber spas and fitness rooms, residents are seeking and able to utilize such amenities.
Technology: One of the most prolific changes in senior housing facilities is the adoption of technology. Tech implementation begins with simple items such as Wifi to Wii games that can help keep residents engaged and active. State-of-the-art tech also is increasingly used to monitor residents for health and safety purposes and substantiate the level of care residents are receiving for their family members. For example, caregivers in modern facilities are now often equipped with smartphone apps to log and input data live during resident visits rather than relying on outmoded documentation procedures. In addition, surveillance systems such as live webcams enable the children of residents to log into secure portals and "virtually" check in on their parent.
Why is Senior Housing a Unique Asset?
Senior housing is a unique asset class, which is distinctly different from other real estate property types and investors should be completely aware. For starters, it is one of three real estate types (the other two being hotels and self-storage) that are essentially operating businesses attached to real estate. For this reason, investors need to understand the fundamentals of the business operations of senior housing as well as the fundamentals of the underlying real estate when contemplating a senior housing investment. Additionally there may be a manager or operator involved, which needs to be vetted just as stringently. And lastly and perhaps most importantly, senior housing involves healthcare. It is real estate PLUS healthcare. It requires state licensing. It involves families and fragile human beings and lots of loving care.
Additionally, the healthcare component presents differing income sources to senior housing, which also must be considered. These options include private pay (resident pays out of pocket), long-term care insurance, Medicare, Medicaid or veteran's benefits. Some public programs can be more sensitive to senior housing reimbursement limits than others. Additionally, legislative changes may affect billing processes and payments over time.
Synthesizing the Information
Investors should analyze any potential purchase against the backdrop of local demographics while paying strong attention to the operation of the business, the quality of the manger, the design and upkeep of the facility and the regulatory environment of the state. From this, investors can gain better insight into the probability of a particular investment meeting or exceeding their targeted goals.
Getting the help you need
If you are new to senior housing, remember there are many resources at your fingertips so there is no need to go it alone. Understanding the demographics, the strength of the underlying real estate, the operations of the business, the occupancy and payer models, as well as the healthcare and regulatory climate of each state is a lot for any investor, never mind a new one.
We specialize in all of it. All we do is senior housing and our mission is to serve owners & operators and buyers & sellers of senior housing across the country.