How To Open An Assisted Living Facility
Unfortunately, the senior housing and assisted living market is not cut-and-dried or cookie-cutter by any means. One of the questions we get from time to time is "How do I open an assisted living facility?" This is one of those questions that has a lot of gray areas, and many items to consider. Procedures may also vary from state to state. They have to say that they have never opened an assisted living facility, but they have done a bit of research and they have some suggestions and direction.
Starting a facility is a complicated process without a doubt! It is also a difficult market to break into and actually be successful in, as this is one of the fastest-growing industries around. By opening a facility, you are sure to have plenty of competition in the next few years as our baby-boom generation begins to "settle down." The first question you might ask yourself is about your intentions – Do you want to start a facility just to make money, or do you have a genuine desire to help people? If you answer yes to the first part, you may want to reconsider. This is a very, very exhausting and complicated industry, and if your head isn't in the game for the right reasons, your clients or residents will surely be able to tell. You will need to be able to deal well with sickness, dementia, confused residents, combative family members, and even death. Do what you love, and the money will follow – at least that's how the saying goes!
So now that you've done your soul-searching and are comfortable with what to expect being an assisted living owner or administrator, the fun stuff begins – licensing and certification! Most states have some pretty strict rules governing the assisted living and long term care industries within their borders, and you will most likely have to go through a pretty detailed licensing and certification process. Unfortunately, this is not a one-size-fits-all process – and one state's procedures may be wildly different from the next. However, they've found that if you visit a state's government website, they usually have a search function that you can use to find licensing information.
As they mentioned, each state is different, and you may have to jump through different hoops to get the answers you need. They imagine that by just simply calling someone in the Department of Health sections of the state website, they can point you in the right direction. Again, this is not an absolute for every state. Finding this information for your location may require a slightly different strategy. You will most certainly need to already have the property and have it inspected before you can obtain a license, so if you are just in the planning phases, you will need to consider the licensing requirements as you develop your facility.
Once you have an idea of what it will take to get your license, you may need to develop your business plan if you haven't already done so. This may be something you do before the previous step, depending on where you are, and if you have a property in place. How do you plan to make money? How many residents do you want to care for? What disabilities will you be able to manage? Do you think that you can hire the appropriate staff to care for a resident with advanced Alzheimer's? What do you charge for – is it a flat-fee for services, or do you charge extra for added services? You will also need to think about medical equipment, handicap access, doing monthly inventory on your supplies and food, and also figure out your labor costs. How many staff will you employ and at what rate? Will you have a marketing budget for your facility? What about a web presence – Do you plan to develop a website to get the word out on the internet? There are plenty of great books out there on how to write a successful business plan – Amazon would be a good first stop. Your library will most certainly have workbooks on this as well.
So now you have your plan, your licensing questions addressed, and your vision in place for your assisted living facility – but perhaps you don't have a location – a physical place to bring your dreams to realization. This is where you will probably need a competent realtor to help you – a good one who is familiar with commercial real estate, and has had experience with assisted living or long-term care facilities. Purchasing an existing business that has already had the legwork done may be a great way to save money and your precious time. However, starting from scratch may be your only option – purchasing a home and then building the physical amenities, handicap ramps and the like into the structure. You'll need to make sure your home or building meets zoning laws and requirements.
Once all of the above steps (and others that we may have missed) have been completed, you will need to get a business license from your city, and a tax ID number. Your facility will most certainly need to employ a good accountant to keep your records spotless!
Being a new business is difficult – the uncharted waters and pitfalls can be cause for a great deal of anxiety. You don't have to go at it alone, though. There are plenty of local groups, trade organizations, and national sites that you can refer to, or even better – join! They recommend that you network as much as possible to gain maximum exposure and to also reap the benefits of being around others who are going through, or who have gone through the process of opening up an assisted living facility.
The steps above are in no way complete – there will most certainly be a number of curve balls that come your way during the process – much like purchasing a home. There may be radon in the basement of your home just as you might discover that your facility has a leaky roof, or doesn't adhere to zoning laws. Our number one recommendation is to get professional help – real estate/business brokers, accountants, advisors, and legal counsel – don't do it all alone. They do hope that this information serves as a 'nudge' in the right direction for you. If you do get through the process and start your own facility, we would love to hear about it. In the meantime, we wish you a 'congratulations' on your venture as a caregiver!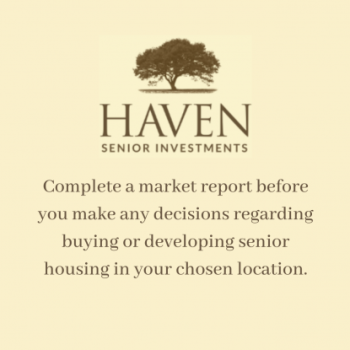 When you need assistance, please fill in this form and within 24 hours a representative will be in touch with you. Your information is held in strict confidence and is never sold to a third party. We look forward to serving you.